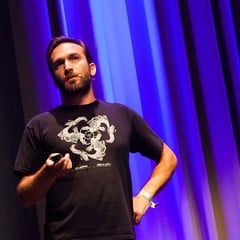 Raphael Lacoste
:: Senior Art Director :: Illustrator ::
Montreal, Canada
Summary
Raphael Lacoste was the Art Director at Ubisoft on such titles as Prince of Persia and Assassin's Creed. Winning two VES Awards, in February 2006 for his work on the "Two Thrones" cut scene from Prince of Persia and in 2017 for his work on "Assassin's Creed Origins".
Wanting to challenge himself in the film industry, Raphael stepped away from the game industry to work as a Matte Painter and Senior Concept Artist on such feature films as: Terminator Salvation, Journey to the Center of the Earth, Death Race, Immortals 2011, Repo Men, Jupiter Ascending...
As of 2009, Raphael has returned to the video game industry, working as a Senior Art Director for Electronic Arts Montreal and Ubisoft, as Brand Art Director on the Assassin's Creed Franchise...
After working on many of the most successful assassin's Creed Titles, Raphael joined some of the original creators of the Franchise at Haven Studios inc as Artistic Director.
you can follow me here!
https://www.facebook.com/raphaellacosteart/
my Gumroad:
https://gumroad.com/raphaellacoste
and also here:
https://twitter.com/raphaellacoste
Skills
Art Direction
Concept Art
Illustration
Matte Painting
Software proficiency